In the interactive realm of musical theatre, Wild Women of Planet Wongo dominates with its snappy dialogue, catchy songs, and lively music. An energetic mishmash of sci-fi, comedy, and  musical, the talented cast and artistic creative team deliver an audience-pleasing show that ends with a fun dance party.
Wild Women of Planet Wongo follows two astronauts as they suddenly crash-land on a distant planet. With their super-brain computer on the fritz and their spaceship wrecked, the lost astronauts find themselves stranded on a planet of beautiful warrior women. Lucky for them, these warrior women have never seen men before. Not only does Wongo combine laugh-out-loud comedy and memorable dance numbers, the audience even gets a chance to play games and be part of the fun.
The history behind Planet Wongo traces back to its early beginnings at a humble workshop, where Ben Budick, Steve Mackes, and Dave Ogrin originally wrote the two-act musical at the University Of Michigan. After getting noticed by the Ensemble Studio Theatre in the city that never sleeps and being accepted into the New York Musical Theatre Festival, Ogrin was inspired to rewrite the piece into a shorter, three-act immersive comedy/musical. With its new format, word about Wongo has spread from East Coast and Big Apple Comic Con, Eternal Con, Flame Con to a performance at Webster Hall as guests of Kostume Kult.
I spoke with cast members Miki Hellerbach, Nick Mangione, and Jenna Marcello about the musical comedy, putting on a different show each night, and engaging with the audience.
Jorge Solis: Not only does your performance rely on comedic timing and hitting the right notes, you're also reacting to audience participation. Tell me about that aspect.
Miki Hellerbach: It's cool! People do Broadway shows where they have to do the same thing over and over again. I never felt like the show is the same. It keeps it in the moment. It makes it like I don't have to generate something from nowhere. There's always new people to play off of. I think it's an advantage to me.
Jorge Solis: Tell me about interacting with the audience.
Miki Hellerbach: I'd say generally though. There's always someone! [Laughs] There's always that one person. And then it gives people permission to go. So that's cool!
Nick Mangione: And drinks help! [Laughs]
Miki Hellerbach: There's less interactive audiences naturally than others. There's never been one person I couldn't interact with. Once they see it, they feel they can actually do this. It's a real thing that can happen. Then there's people who don't know what they got themselves into. You've got to keep the show moving.
Jorge Solis: Do you feel your performance depends on improvisation?
Jenna Marcello: It's the best improv class. It's way better than anything they teach you in improv class. And then you do a show like this.  You're like, "This is what improv means!" Anything happens! Every night is the best learning experience!
Nick Mangione: I went to school for theater in general. I did some musical theatre there. I've done improv classes.
Miki Hellerbach: I went to musical theatre. I took one improv class. I think I was terrible! It's nice to have a script to fall back on. That's the other thing too. If one improv things falls flat, and they will! There's going to be things the audience doesn't pick up on. You have the script total back on, which is nice! It's not creating something out of nothing! There's always something to go to.
Jenna Marcello: Silence! It's always good to go to the next thing.
Jorge Solis: Do you feel you learn more about the audience or from yourself after each performance?
Jenna Marcello: This is a great experience. It gets you out of your comfort zone. There's obvious some disconnect. You feed off the audience. Our characters change night to night. If I say one line last week, and it landed, and you say it again this week, it might not land. You're putting so much of yourself out there. There's an element of the show where you just cannot care what the audience thinks. In a musical, in a play, I always find myself, "Why didn't they clap loud? They clapped loud last time." This has got me out of the "who cares what the audience thinks" mindset. You just free up.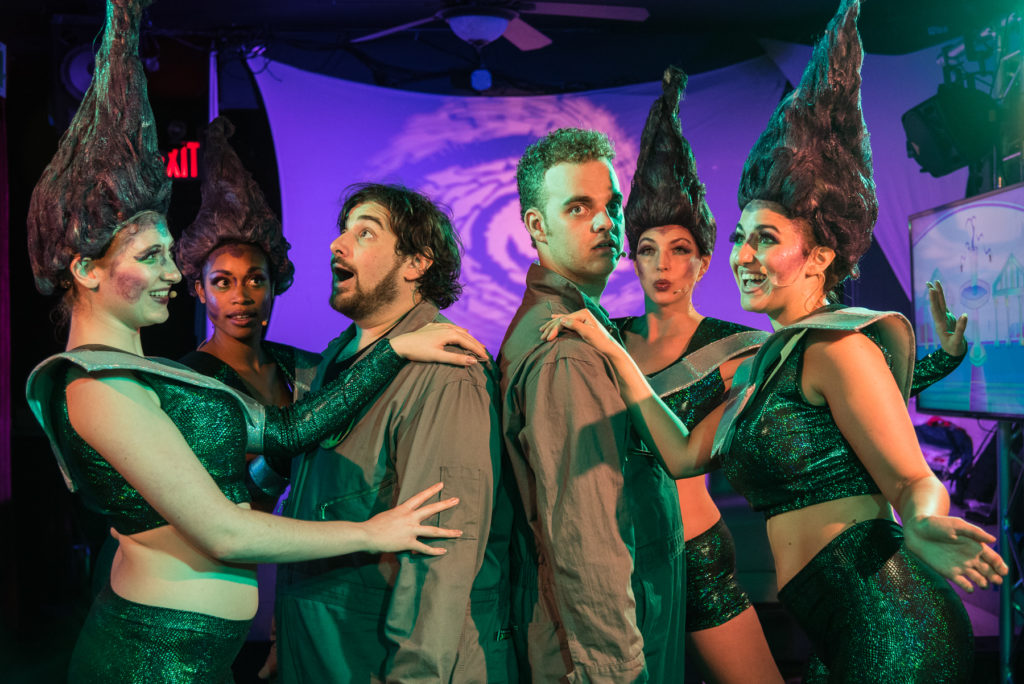 The immensely talented team of people who put the show together Thursdays and Fridays are David Rigano (director), Paul Rigano (music director), Juson Williams (choreographer), Emily Grayson (production stage manager), Ido Levran (Video and Sound), Lisa Huffnagel (lighting design), Rob Dutiel (set and prop design), Marsh Shugart (wardrobe, wigs and makeup) and Elise Vanderkley (costume construction).
The cast includes Sage Buchaleter, Aiesha Dukes, Maya Hana Evans, Miki Hellerbach, Jenna Marcello, Amanda Nicholas and Howie Schaal.
Wild Women of Planet Wongo is performed live at Parkside Lounge. The immersive sci-fi comedy will continue in NYC till June 16th. Get your tickets for shows every Thursday and Friday at 8pm from the official website here.